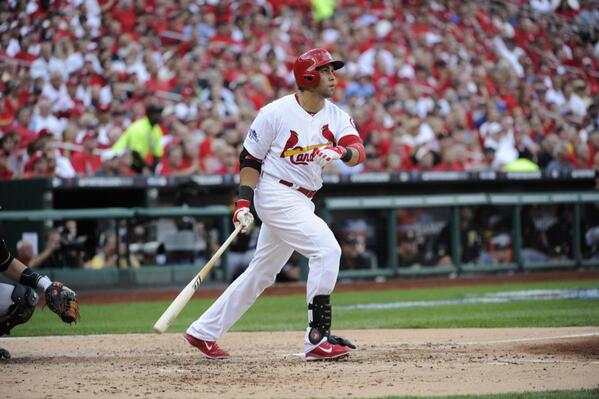 In late July of 2011, a desperate Brian Sabean, general manager of the San Francisco Giants, orchestrated a trade to acquire the best outfielder on the market, Carlos Beltran. The Giants, coming off a World Series victory in 2010, experienced devastating injuries (including losing Buster Posey for the entire season thanks to a brutal plate collision with Scott Cousins) and stiff competition from a very good Arizona Diamondbacks team. Their offense, especially with the loss of Posey, was abysmal, and if they wanted to remain in contention, they needed to obtain an offensive juggernaut to bolster their lineup. So, a year after making several minor moves that led his team to a World Series run, Sabean decided to go with one colossal one instead. Many Giants fans, including myself, questioned the move. Trading for Beltran not only meant San Francisco had given up their best pitching prospect in Zach Wheeler, but it also meant the team was gambling on a player who was a free agent in the upcoming offseason. If the Giants failed to make the playoffs, which was very possible given the way they had performed up to that point, would they even be able to re-sign him? Was it worth it? As it turns out, the Giants would fail to reach the postseason, and fail to resign him; he ended inking a two year deal with the Cardinals instead. How did Beltran perform as a Giant? He was briefly injured, which has always been a concern with him, but when he was in the lineup, he was a pretty darn good player.

 Until watching him play on the team I rooted for, I didn't realize why Carlos Beltran was given such heavy praise from television analysts and sports columnists across the country. Call it West Coast bias if you'd like. In my eyes, Beltran had always been a very good defender, decent hitter, but someone who was frequently on the disabled list. His career batting average's around .285 and he's got around 300 home runs, which is good, but what was the big deal? I blame my age for the ignorance I displayed back in 2011. I was still in elementary school when Carlos Beltran began writing his postseason legend. It began in 2004, with the Houston Astros, when Beltran slugged 8 home runs in a single postseason. I'll repeat that if your jaw dropped. He hit EIGHT home runs in one postseason, and his team didn't even reach the World Series. Incredible. After that, he signed a long-term contract with the New York Mets, and had a mediocre first season with them due to, you guessed it, injury. The season after that, however, Beltran went off, with 41 regular season home runs, an All-Star MVP under his belt, and a gold glove award. He had another excellent postseason, although not nearly as amazing as his 2004 performance. 

It's the Carlos Beltran from 2007-2011 that I personally remember, and maybe that's the reason I was so unimpressed with the trade. In 2007 and 2008, he was still a tremendous player, earning a 5.2 and 6.7 WAR thanks to both great offense and defense. After that is where we see decline. In 2009 he only managed to hit 10 home runs, and injury caused him to only play 81 games. In 2010, he only played 64, with a slash line of .255/.341/.427. And this is probably the reason many Giants fans were skeptical. This was a player on the decline, who had tremendous talent, but a history of injury problems. I dismissed experts raving about Beltran as nostalgia. In the end, I was wrong, and they were spot on. In the 2012 postseason with the Cardinals, Beltran had a slash line of .357/.440/.714. This year? He already has 2 home runs and 6 RBI's, and there's still a game to go in the NLDS tomorrow evening. Did I mention Beltran currently holds the highest OPS in postseason history at a ridiculous 1.247? And forget postseason for a second. He has 300 stolen bases to go along with those 350+ home runs, 2000 hits, 1,000 RBI's, and 1,000 runs. Carlos Beltran is a remarkable player, and someone who will get hall of fame consideration, thanks in large part to his remarkable playoff performances. He's a player who's still doing well heading into his age 37 season, and someone who gets better when the lights are brighter Looking back, do I still regret the Giants trading for Beltran in 2011? No, I regret not resigning him. All hail the postseason king.
---
Fans who don't follow the game of baseball frequently ask "Why are so many new players in the lineup at the end of the season?" That's the beauty of roster expansion. Veterans who have endured the grueling schedule for so long can get days off and clubs get a chance to see what some of their youngsters can do on the big league stage. For losing teams, these young players are auditioning for jobs on the opening day roster for the succeeding season. Someone may perform well enough to compete for a starting spot at their position next spring training. Someone else may perform so badly, management decides that player is a weak link and is expandable, and just like that, he's traded off for a different prospect. Now after learning this, that same curious fan might say "So how does roster expansion benefit teams that are actually winning?" Well, it can help them a lot more than you'd think, depending on what kind of pitching a team has in their farm system. To put it bluntly, rookie pitchers can kick major ass in the playoffs. We just saw Sonny Gray throw 8 dominating innings of shutout baseball, striking out 9 and giving up a mere 4 hits. Oh by the way, his start occurred during the divisional series and prevented the A's from falling down 2-0 in a best of 5 series against the Tigers, with the next game being in Detroit. 

It's becoming more and more common for rookies to have a huge impact in playoff games. In 2010, Madison Bumgarner, a late September call-up, pitched gem after gem throughout the postseason to help the Giants win their first World Series in more than half a decade. In 2008, future Cy Young award winner David Price (another player who came up during roster expansion) would pitch in the Rays' bullpen throughout the postseason and his electric arm boosted Tampa in their own quest to win a World Series (they would reach the fall classic and eventually fall to the Phillies). And it's not just the September call-ups who have been making their mark. Gerrit Cole was called up back in June and also had a tremendous postseason debut, limiting the powerful Cardinals offense to a single run over six innings and making sure the Pirates got the split on the road that they needed before the series headed to Pittsburgh. Professional hitters who read this blog might be wondering why I'm giving starting pitchers all the credit. Well first of all, no one reads this blog, so those hitters don't exist. Second of all, impact rookie hitters in the postseason barely exist either. Pitchers have a distinct advantage when facing a team for the first time. They can get away with things because they have such good stuff and they usually have veteran signal callers who tell them where to locate their pitches and what to pitch to who in a given situation. 

Hitters just have a harder time making adjustments in their first year, and once teams find their weakness, they'll keep exploiting it until the player can fix the problem. Excellent players like Bryce Harper, Jason Heyward, and Troy Tulowitzki all struggled during their first taste of postseason play. So what should we expect as we continue forward in the 2013 playoffs? Expect the pitchers that make it to the next round to continue being weapons. Expect future stars like Yasiel Puig and Wil Myers to struggle, but don't be shocked if they hit an absolute bomb in a key situation if they get the right pitch. Hopefully this prediction goes down better than my last prediction. One game playoffs are hard to anticipate! Until next time, I leave you with Justin Verlander being Justin Verlander:
---
Hello CoaS readers! I know there's not a lot of you out there yet but it feels great to have the opportunity to join this excellent, up and coming sports blog. I'd like to thank LFCnonbandwagoner for inviting me to contribute to this wonderful website and I'm looking forward to helping add on to the quality content he provides, as well as expanding the range of sports we cover. LFCnonbandwagoner's got you covered with quality EPL and NHL content and hopefully I'll be able to do the same as I start writing columns about the NFL and NBA. The one sport we both love with a passion is baseball, and since it happens to be playoff time, I thought the first thing I'd share with you all would be an MLB column. So without further ado, here's my take on tomorrow's American League Wild Card match-up.
Two of the best managers in baseball square off tomorrow night at Progressive Field as Joe Maddon's Tampa Bay Rays take on Terry Francona's Cleveland Indians. The Rays were expected to make it into the postseason. They have one of the top rotations in baseball, play terrific defense, and have just enough firepower to make it work offensively. The Wil Myers-James Shields trade is working out well for Tampa and is a huge reason they've made it here. Many pundits, however, were shocked to see the Indians play this well, and while it's mildly surprising, it shouldn't be that hard to believe. After all, when you add a manager who lifted the World Series curse over the city of Boston and won again just a few years later, your team should improve. Give Francona offensive stars like Carlos Santana and Jason Kipnis and acquire pieces like Nick Swisher and Justin Masterson, and it should start to make sense. But let's go back to the coaching aspect of this for a second, because

coaching can make a huge difference.

 We've seen a resurgence in the careers of Ubaldo Jiménez and Scott Kazmir, as well a "taking the next step" type development for Justin Masterson, and I think a lot of that has to do with their new coaching staff. Yes, Masterson has worked with Francona before, and that probably gives him a comfort level he was lacking the last few years, but a different manager hasn't been the only change. New pitching and bullpen coaches mean people with fresh perspectives and unfamiliar lessons to teach are working with pitchers who are only used to doing things a certain way, and it's seems to be something that has clicked. Whatever answer Jiménez has discovered about his motion simply wasn't something that could be found in Colorado. Whatever adjustments Masterson has made weren't adjustments he was thinking about making in Boston. And whatever is working for Scott Kazmir now was definitely not working for him during his rough tenure with Anaheim. But enough about them. None of those three are pitching in the one game battle tomorrow night. Instead, it'll be the 23 year old rookie from the Dominican Republic, Danny Salazar. This guy touches 98 with ease and made Miguel Cabrera look downright silly when he struck him out three straight times in their first meeting against each other (before Cabrera promptly launched a home run into deep center field in the fourth at-bat). Salazar has excellent stuff and rookie or not, I think the Rays line-up is going to have a tough time cracking him tomorrow. Meanwhile, the Indians offense will be taking on Alex Cobb, who is pretty terrific in his own right. Often forgotten among the other names in the Rays' rotation, Cobb has arguably been the best of the bunch. He owns the highest WAR of their starting staff at 4.0 and an excellent 2.76 ERA to go along with it. Combine that with 8.41 K/9 and a WHIP of 1.15 and you can see why Maddon is confident in sending this guy out to the mound. Barring a rough outing, Cobb is also projected to go deeper into the ball game. He's averaged roughly 7.2 IP over his last 3 outings while Salazar has pitched more than 6 IP only once in 10 starts since being called up from Double-A Akron earlier this season. So what happens if this game comes down to the relievers? It's actually quite hard to predict, considering both bullpens have nearly identical ERAs. Both teams have quality arms and can match-up well throughout innings 6, 7, and 8, but closers Chris Perez and Fernando Rodney have been shaky to say the least. So similar bullpens and dynamic pitchers means the advantage goes to the better offense right? It would seem Cleveland has the upper hand here, but we can't forget previous meetings between these two clubs. The one time Cobb faced the Indians this season, he threw 7.1 innings of scoreless ball (Salazar has never faced the Rays). So what's the final verdict? I'm curious to see how much of a factor the Cleveland crowd will play in the game after seeing how much of an effect it had in tonight's NL showdown between the Reds and Pirates. Reds' manager Dusty Baker can deny it all he wants but Pittsburgh's fans did something to rattle Johnny Cueto. Despite Cobb's previous success and my man-crush on Joe Maddon, I think I'm going to have to lean with the team who's playing at home and whose offense has been better all season long. Yeah, I know. I can't believe I'm doubting the team that just beat the Rangers under very similar circumstances: one game decides who advances, it's on the road, opposed by a terrific offense, and facing a good rookie pitcher. Oh well, a gut feeling is a gut feeling. CLE 4 TB 2
---